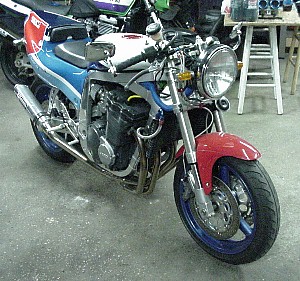 Streetfighter-rr
Decided to set the bike up with a euro flavor. Removed the upper fairing and stock headlights and installed a '85 GS700 8 1/2 inch headlight unit. Custom made aluminum headlight mounts hold the sides of the headlight. Also customized the gauge set-up , more about that below.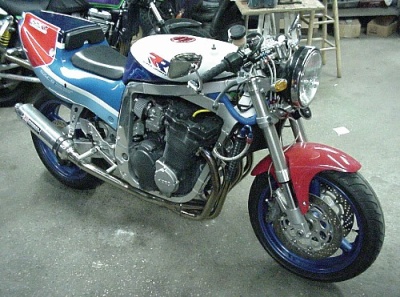 Hanging On
Bar end mirrors were used, which are immensely better than stock mirrors I might add. I used the original '95 GSXR750 clip-ons. Notice in the pic also this one still has the original seat and not a junk piece of stick-on foam..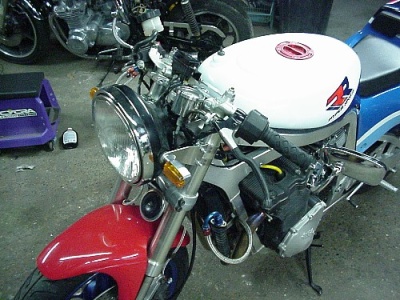 Changing Gears
The GSXR1100 engines use a hydraulic clutch assembly from the factory. I like to have adjustability so a clutch cable system replaces the factory unit. A GSX750F shifter cover and clutch pusher assembly combined with a cable and lever from the same bike works like a charm. It bolts perfectly to the bike and looks correct.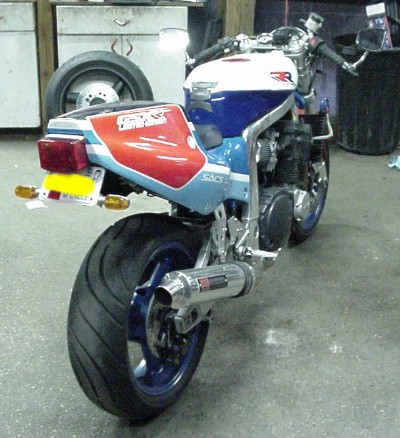 Standing Back
Overall BOTH looks are cool and I never decided which I liked better, but the streetfighter look was very unique and I leaned more in that direction with most of my builds.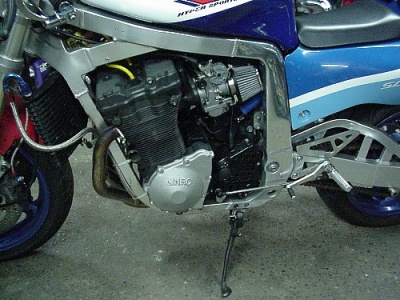 Allways Wear Protection
These bikes and others with this family of engine will destroy a starter gear or ignition cover if they fall over hard enough. Sometimes even damaging the engine cases themselves. Not a good thing with a prized 1127cc engine. So I installed NRC racing covers on both sides. These covers are very thick and have braced edges to even protect the case edge if impact is made.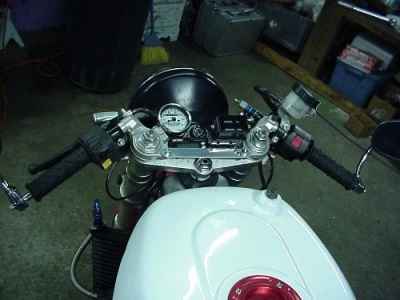 Metering
With the sans fairing set-up I opted to only use the items necessary to be street legal. So a 2 1/2 mini speedo was added. The forks were lowered and the bars were moved above the tree. A original pilot box was used and tricked out with a hidden shift light. It all worked nice and allowed the original speedo cable to be used.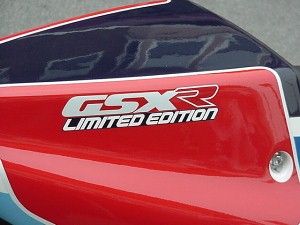 Thanks for Checking it out
This was a cool project to do. The bike handled nice and had lots of power. Maybe you have a cool GSXR you would like to show off. Send some pics to show how much you love it and I will add them. Thanks for checking out this section. Click below to see more of my bikes or pick a different area above.


Back to My Bikes Main Page