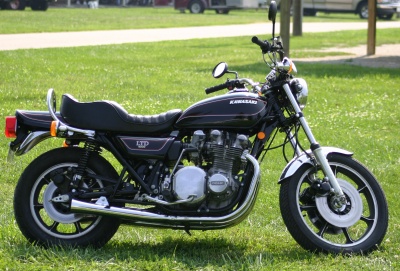 Kawasaki KZ1000B2 LTD '78
The second year for the KZ1000 B model 1978. The bike came in only two colors this year, red or black. They were designed by a USA Kawasaki and most were made in Lincoln Nebraska. They had Jardeen Bell end mufflers, a thinner tank than the A models, a step seat (where the term LTD spawned), They were triple disk brake and extra chrome parts were added. Both the front an rear fenders were exclusive to the LTD as well. 1015cc DOHC motor fed by 26mm Mikuni VM style carbs. They also added a Mulholland shocks also exclusive to the LTD. A very sexy bike strait from the factory.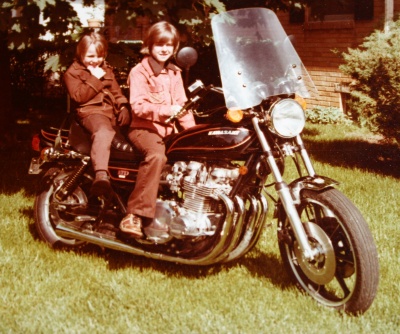 A Special place
This particular make, model, year is very special to me. It was the very first street bike I ever got to ride on and even DRIVE! The picture to the left shows me and my little brother in 1979. Notice it still has the original Goodyear Eagle A/T tires found on the USA models of this year and make. At this age I thought that bike was the fastest thing on any wheels. My parents had many other bikes before this one, but as kids we only had the off road variety of course. I think I drove it first when I was 12 and I was shaking when I got off. Not from scary speed or anything like that. I thought I was going to drop it and then be sold to the gypsies to pay off the damage. It was very exciting and scary at the same time and I never forgot it.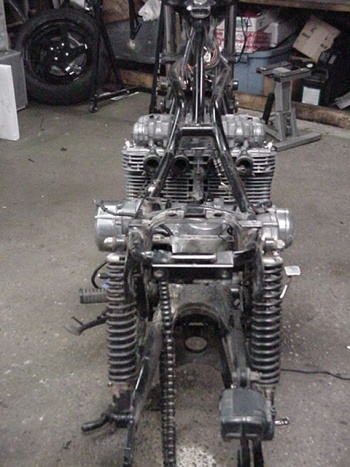 I found the Right One
After years of looking for just the right one to restore, this one just fell in my lap. One of my customers pulled up on it and wanted a factory air box. Other than missing the box it was all stock and had 13k original miles. I asked him what plans he had for the bike and he said he needed the box so he could sell it as it ran poorly without the air box. I said "I will buy it and save you the hassle". I rode it home that day. It had been sitting in a barn down in Texas for years. The cool thing was it had a Indiana inspection sticker on the lower leg and was never titled in any other state. It was almost like getting the actual bike back I remembered! In the picture I had already started the disassembly. I was so excited I tore it mostly apart that night. It was musty and dusty but had very few rusted areas and only a couple missing parts like the grab bar and the air box. The worst part was someone had painted the motor black. Thank goodness they were a crappy painter. It still took 2 weeks of work to massage it back to stock unpainted look.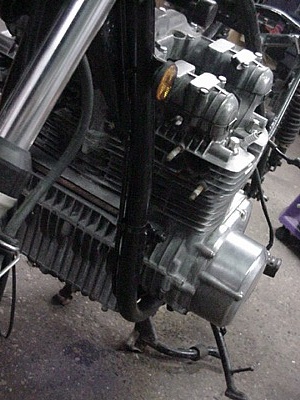 A Real Nice Foundation
The bike had very low wear and tear when it was being driven. It still had the stock rear tire, factory grips, and the bike had no fall over damage anywhere. There was also ZERO motor leaks. Someone loved it for a while and then just parked it for many years thereafter. The funny thing was, I had been putting away tons of NOS parts for this model just in case I found one. Most of them went to waste as they were not needed. I thought for sure if I found one the wire harness would need replacement, but this one had a perfect harness. The further I tore it down, the more usable parts I found. No worn out bearings, soft rubber seals, etc. Even the chain and sprockets was original, but I did replace parts like that to make the bike as new as possible. I did the same with a few electrical items just to be safe like the rectifier, solenoid, points plate assembly, flashers. Basic parts that would and do cause headaches on this age bike if chance is taken.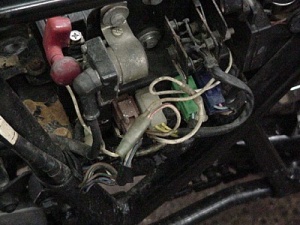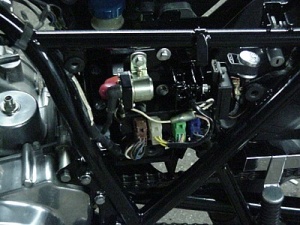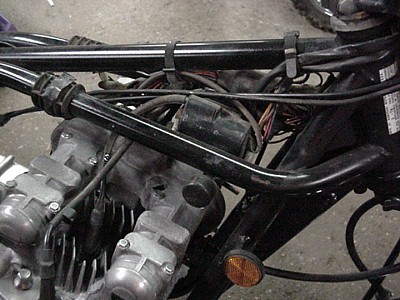 Virgin Territory
All the cables on the bike were original and fully functioning. Also all the wire loom holders, rubber cushions and grommets. Usually this stuff is all mismatched and everything is re-taped and wire tied. Got lucky again!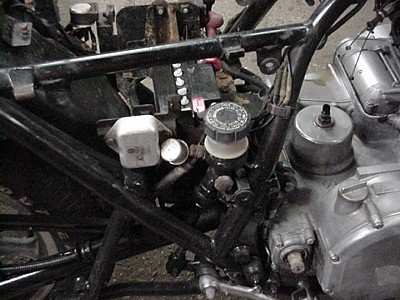 Brakes
The most surprising thing of all was the shape the brakes were in. All the pads were factory and all the brakes functioned correctly and no sticking. There were no leaks, but I did rebuild the calipers and master cylinders. This was especially nice due to the fact that the rear master cylinders for these can be pretty hard to find if you need one.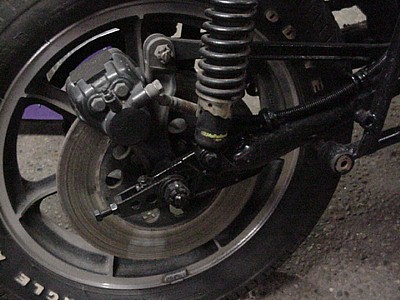 Shocking
The shocks still had all the stickers which would come in handy later when restoring. Take a close look and you will see that original Goodyear Eagle A/T raised letter tire.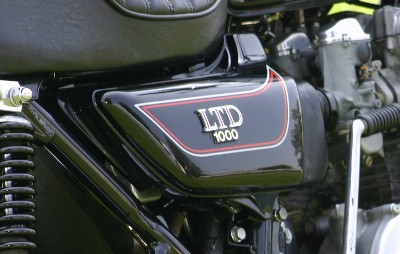 On to the Good Part
Click below to see the finished bike along with a few before and after pictures towards the end.


Click Here to See More