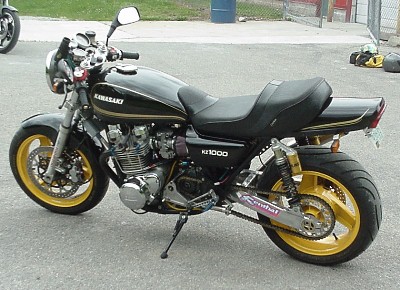 Mechanical over Cosmetic
I was never really into the "pretty bike" school of thought. I appreciate looking at any cool bike, pretty or not. But my preferred style is a "machine". A machine that tends to show off it's working parts is my favorite. Not hidden under pretty painted plastic items, but out there for everyone to see. I also like to keep the general distinguishing characteristic of a specific model (IE a stock paint set). This paint set is ALL FACTORY ORIGINAL. Even the front fender is factory Kawasaki Ebony Black conveniently found on a '90 ZX7 that the forks came from.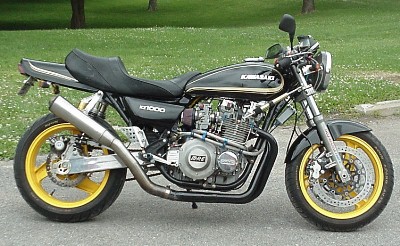 Profiling
The rear-sets are Raask that were further customized with a set of '87 FZR1000 pegs, peg mounts, and brake pedal. Also a rear master cylinder mount with a EX250 master cylinder attached. A ZX1000R rear caliper mated nicely to the Zephyr swing-arm and the ZX11 wheel. The eccentric adjustment for the rear axle were switched to ZX11 20mm to accommodate the axle for the Zx11 too. The front wheel required no changes. The ZX11C wheel mounts exactly the same as a '89-'90 ZX7 Wheel.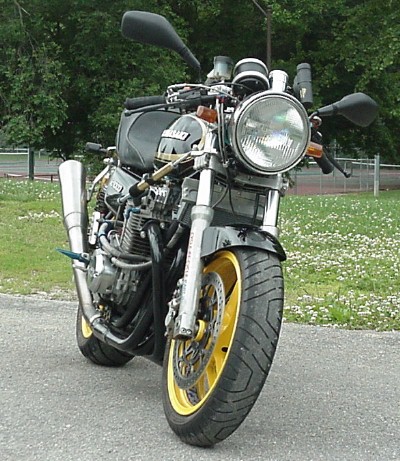 What is Next?
The bike is apart for a overhaul yet again. The basic design of the bike and the engine will be the same. The changes underway are adding 7/8 DOM tubing in place of flat braces on a few frame joints. The entire undertail, battery holder, and NOS holder is now shaped and tig welded sheet aluminum. Including a tig welded all aluminum battery box. Basically refinements. Because as I said before "who the hell wants to leave well enough alone?".

Back to "My Bikes" Main Page