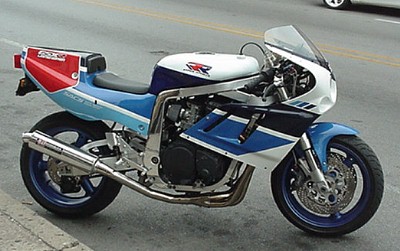 GSXR750-RR '89 Limited Edition
Without any modifications a 750-RR is a very cool racer version sport bike. It was also one of the pioneering models that turned the sport bike into a REAL sport bike. But, as you may have seen from looking at some of my other bikes, there is no well enough alone.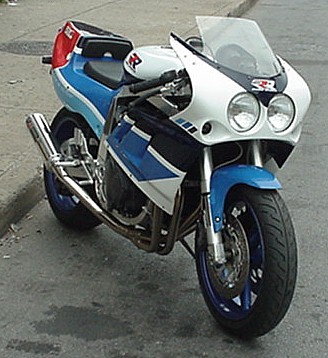 The Foundation
The bike comes with fiberglass body work incorporating a one piece tail section. It has a all aluminum Yoshimura gas tank and a paint job exclusive to this model. A large red number backing and a classic and recognizable Suzuki color scheme. A lot of unique parts made this bike a Suzuki lovers wet dream when it came out. I however, needed one that went to that next level.
Mo Power
The original motor was switched out with a 1127cc GSXR1100 engine from a '92. It is fed by a set of 36mm Mikuni RS Flatslides and K&N oval pod filters. A Yoshimura nickel plated exhaust gets the gasses out. A DYNA 2000 digital ignition system and Accel coils makes sure what is spit out the exhaust is all spent.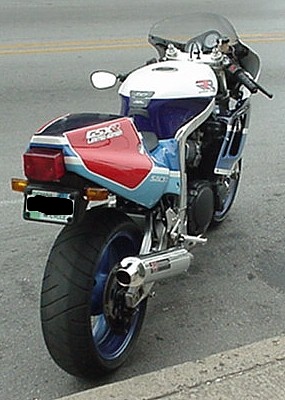 Updated Suspension
The forks, swingarm, wheels, and brakes all are from a '95 GSXR750. Not many modifications are rquired to make this change and it makes it updated enough to be cool, but not too over the top.
However, I did decide to make a radical change. Click below to see what it was.