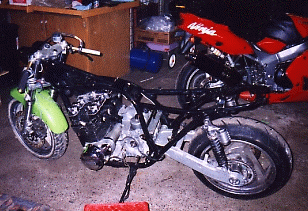 A Starting Point
In Sept. 1997 I started with a bare frame. The frame is a '74 Z1 900. Every joint on the frame was braced and the neck was boxed. The wheels and brakes were used from a '92 ZX11, the swingarm from a '91 ZR750 Zephyr, and the forks and trees from a '90 ZX7.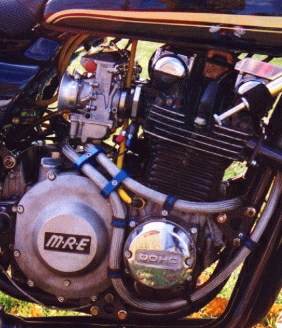 The First Powerplant
The original motor used for the project was a '76 KZ900 low end and a '78 KZ1000 top end. Welded crank, back-cut tranny, std 1015cc bore APE forged 10.5:1 pistons, APE 410 lift cam, and a mildly ported head. Along with DYNA-S electronic ignition and 36mm Mikuni RS Smoothbore carbs. NOS was also added and the package along with a custom made Earle's oil cooler. The entire package was hugely upgraded as you will see coming up in later pictures. Hindsite being 20/20 as they say, I should have left this package alone as it was a VERY streetable set-up and dependable. But, who the hell wants to leave well enough alone?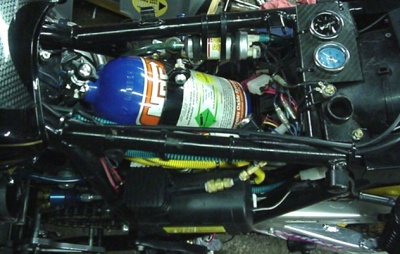 All Custom Electrical
The entire harness was built from scratch and color coded. Bike uses a complete wiring system too. All correct lighting with headlight, tail, signals, indicator lights for dash too. Wiring also incorporates fuel pump for NOS, air compressor for air shifter (track only). Oil temp gauge, electronic tach. and shift-light incorporated and added to dash.
The first Version
Finished
The first example of this bike came out great. It uses a FACTORY NOS '78 KZ1000A2A Ebony Black paint set. The wheels were powder coated a DOT safety yellow.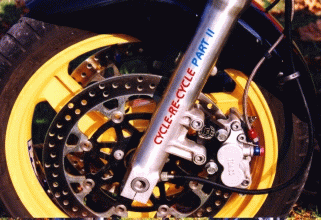 Gotta Stop Too
Front brakes were upgraded to a 330mm Ferodo outer disk and offset plates for the calipers. Brake lines are custom made Earle's braided stainless.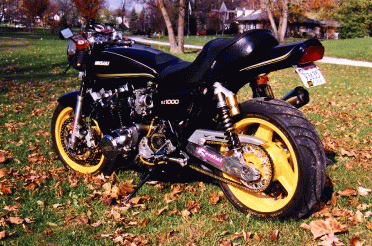 Smooting The Roads
Since the suspension was being used from different bikes it was adjusted to work with the new set-up. Ohlins shocks were added to the rear made for a KZ1000 and the forks were given a Race Tech valve job and special springs adjusted for the bikes actual weight and stance. The rear was lifted to change the rake angle of the front end for faster steering. This bike will handle a curvy road with ease.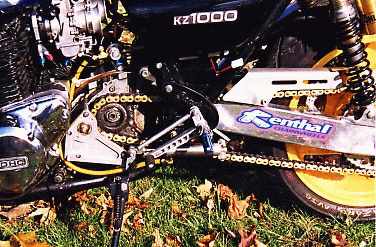 Getting The Power To The Ground
With the Nitrous spraying the power output is pretty high. To accommodate the 5.5 inch wide wheel and the 180/55-17 rear tire, a 5/8 inch offset front sprocket was added. The sprocket was mated to a 10500 tensile strength Regina Chain. Also added was a PMFR clutch release holder that was further customized to accept the extra offset for the front sprocket.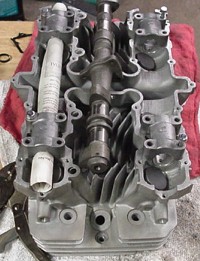 Some Change Is Good
First I apologize for the low quality pictures so far. Most were scanned from actual film, low tech to say the least. From this point on that will change. But, that is not the only change to come. Like most people with a passion for this sport, nothing is ever "good enough". The 1015cc engine was great, but when it erupted a lean issue on cylinder 2 one evening at IRP and burned a valve edge (NOS can accelerate this wink wink), lets just say, one thing led to another.

Click Here to See More