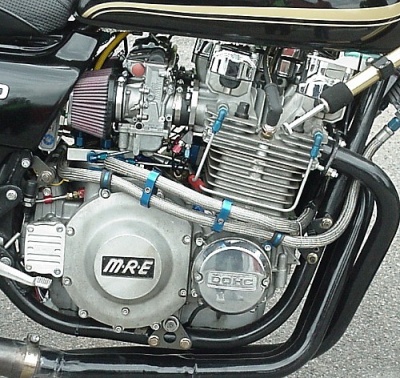 A New Beginning
Those of you from my age group should get this. Picture one of those Ed Roth style t-shirts with the custom car with huge wheels on the back and a massive oversized motor protruding the hood. Inside is a crazy character with bulging eyeballs and a slobbery tongue wagging out cartoonishly to the side. The right arm high up in the air shifting the exaggeratedly tall shifter protruding from the sun roof. This paints a picture of that one special speed demon that, while we sleep, injects the sort of insanity into your brain that makes us go overboard when it comes to power and speed. So, what started as a simple cylinder head fix quickly turned into that little voice saying..."Well if I have to fix that, then I might as well upgrade this too". Now take that statement and rinse and repeat over and over and here is the result.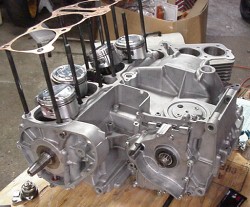 The 1200cc Motor
The new motor started with the same '76 KZ900 Cases, welded crank, and back cut transmission. Then a billet clutch basket, a main cap brace, heavy duty crank stud kit was installed. For the top end a set of heavy duty cylinder studs was installed. 1197cc JE piston set balanced and end gapped were installed to be housed in a Carolina big block cylinder set that was o-ringed for extra cylinder pressure.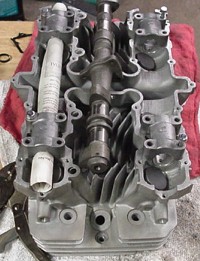 Icing on the cake
The largest change to the original set-up was the cylinder head. The original '78 KZ1000 mildly ported head was replaced with this monster. It is a '81 KZ1100A head typically called a J Model head by Kawasaki guys. Termed from the first use of the head on the '81-'83 KZ1000 J Model which was Kawasaki's basic or standard KZ1000 offering that included among other things enlarged valve size over previous '80 and earlier KZ1000's. It can be found on all '81-'83 KZ1000 or KZ1100 carbureted models, including KZ1000P police bikes as late as 2011 or so.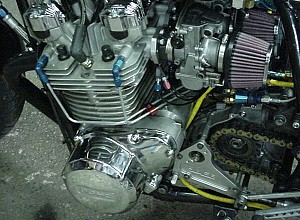 Size matters
The increased size of the valves makes this head great for performance. But it also allows you to increase the valve size even larger than you easily could with the older heads. On this one I increased the valves even more with an additional 1.5mm intake and 1mm exhaust. This made the intake valve +2.5mm, and the exhaust +3mm total over the '78 KZ1000 head I was using before. The valves themselves are Ferrea stainless steel with titanium spring caps. The shim buckets, retainers and valve shims were all switched to shim under bucket design to handle 10k plus rpm safely.
Heavy Breathing
The J heads do not work on the older motor "as-is". The head requires some major modifications to properly mount. First a cam chain idler system needs to be installed on the top. Also the head needs considerable decking to make up for the way too large combustion chamber size of the J head. Also I added a custom made external oiler system that feeds the cam journals extra oil that is typically lost by the addition of the heavy duty cylinder studs.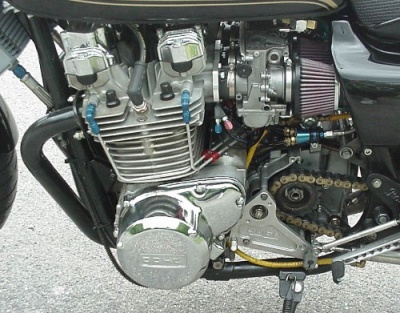 De-Greed For Speed
A huge port job with emphasis on mid range along with complimenting 425 lift and 269 duration Web Cams. The cams were degreed with emphasis on torque and midrange for streetability. Matching valve springs and Tsubaki cam chain along with all new rollers and dampers for cam chain and tension top to bottom. A manual APE cam chain adjuster keeps the tension. All fed by a set of 36mm RS Flatslide Mikuni carbs. This set-up is a monster when run normally aspirated, but when you use the NOS ...(Sound the space shuttle makes under take-off). Ok a little exaggeration, but you get the picture.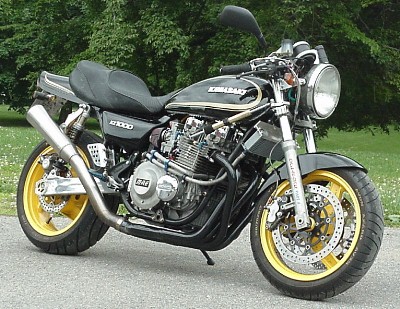 Exit Speed
The exhaust I used is a combination of a MAC ceramic coated Tri-Y (4-2-1) header pipe mated to a stainless Supertrapp muffler from a FJ1200 system. A 2 1/2 inch core baffle with competition open endcap completes the exhaust.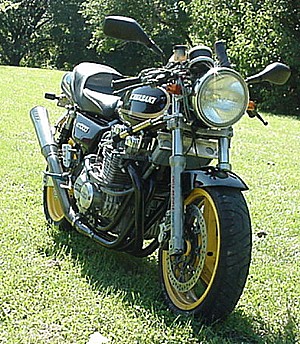 Back to the Design
Since the pictures from the first time I built this bike were not so great, I did not mention a few of the other characteristics of the bike. We can now look at the overall design of the bike and what parts were used to make it work.

Click Here to See More